AGE GROUP:
Sr High +

March 24 - April 19, 2019
May 19 - August 16, 2019

COST: $425/person
(6-Day Trip)
In the wake of Hurricane Michael crashing into the coast of Florida, we're jumping into action and need you to join us! We already have people on the ground in the Florida Panhandle communities of Panama City, Callaway, and Lynn Haven figuring out the needs and how mission trip teams can best help with the relief and recovery efforts, bringing love and hope to families in the wake of a disaster. Will you bring your team to help this year?
Click below to fill out an interest form (or call our Mission Trips staff team at 888-475-6414) to learn more about Florida disaster relief trips!
Typical Schedule
AVERAGE DAILY SCHEDULE - SPRING 2019
Initial relief trips will have a simplified schedule with no EM led devotions in the evenings. Teams are encouraged to prepare this for their teams. Due to the nature of responding to a disaster, we ask all teams to come in with a flexible heart and spirit ready to serve and bring hope to the citizens of the Florida Panhandle.
Day 1
3-6pm - Groups Arrive
5pm - Leader's Meeting
6pm - Dinner
7pm - Orientation Meeting
8:30pm - Team Time (a time for your group alone)
10:30pm - Lights Out
Day 2-5
7:15am - Breakfast
7:45am - Devotions and Quiet Time
8:15am - Group Prayer
8:30am - Teams leave for Sites
12pm - Lunch
3:30pm - Finish work for the day
4pm - Break and Clean-up
5pm - Leaders meeting
6pm - Dinner
7:00pm - Free Time/Team Time
Day 6
7:15am - Breakfast
7:45am - Cleanup/ Packing
8:30am - Send Off
AVERAGE DAILY SCHEDULE - SUMMER 2019
Each morning, there is time set aside for devotions and quiet time. Experience Mission has devotionals/journals that are available for purchase or teams can supply their own. This is a valuable time and we strongly encourage all team members to spend it with God, journaling their thoughts and experiences as the days unfold.
Our staff will lead a time of debriefing and a short devotional in the evening (what we call "Evening Gathering") and it is always a great addition to have musical worship. Our programming does not include musical worship as we can't guarantee that our staff will have this ability. Please let us know if you have anyone who sings or plays guitar on your trip so that we can help to coordinate the musical aspect of worship when able. If teams aren't able to help in the area of music, it may not be a part of the trip.
Day 1
3-6pm Groups Arrive
5pm - Leader's Meeting
6pm - Dinner
7pm - Orientation Meeting
8:30pm - Team Time (a time for your group alone)
11:30pm - Lights Out
Day 2-5
7:15am - Breakfast
7:45am - Devotions and Quiet Time
8:15am - Group Prayer
8:30am - Teams leave for Sites
12pm - Lunch
3:30pm - Finish work for the day
4pm - Break and Clean-up
5pm - Leaders meeting
6pm - Dinner
7pm - Evening Gathering (as a whole group)
8:30pm - Team time
Day 6
7am - Breakfast
7:30am - Cleanup / Packing
9am - Pictures and Good-Byes
Lodging, Food & Transportation
Lodging
Lodging in the Florida Panhandle may vary as time goes on and churches are restored. We will notify you of your lodging location closer to your trip. Teams should plan to sleep on the floor and to bring a light air mattress or a mat. Team members should plan to bring light bedding or a sleeping bag and a pillow.
Showers & Bathrooms
There will be showers for your team, however, be prepared for potential "camping" showers. There will be usable bathrooms at the place you stay.
Water
Water to drink will be provided by Experience Mission. In the event that local water is contaminated, we will provide bottled water.
Electricity
There should electricity at the church where teams stay however there may be times of outage as they restore power to the city. Power at work sites will vary.
Food
Experience Mission Field Staff will prepare and serve your meals. Breakfast and dinner will be served buffet style, and your team will pack their own lunches each morning. Team members should plan to bring their own plate, bowl, cup, and silverware for meals.
Transportation
Your team's transportation to, from, and while in Florida is NOT covered by the trip cost. You will need vehicles throughout the entire week to transport your team to various locations for work and ministry. 15 passenger vans or smaller are strongly recommended as your main mode of transportation. Using a school bus as your main mode of transportation while in this community is NOT recommended.
Trip Activities
Teams will serve local residents who have been impacted by Hurricane Michael. As relief gets underway Experience Mission plans to help our local partners with whatever projects they deem the most important. At this time it appears that teams will likely help with roofing, drywall & finishing projects but we ask that you come with an open & flexible heart ready to jump in as things change weekly in a disaster area!
Leaders will skill are required for all trips if possible. We would prefer to have 1 skilled person for every 7-8 people.
*Experience Mission works closely with local leaders to identify work projects and ministry opportunities that address authentic needs within the community. We ask that you come with a servant's heart and willingness to adapt to the unique qualities represented in each location. Opportunities can vary significantly from one week to the next. Your team may work at one location or serve at multiple locations each day. Due to the nature of helping rebuild after a disaster, we cannot confirm your specific daily activities until your team arrives.
Interested? Start here!
If you're interested in bringing your group on a mission trip, fill out this quick interest form! Our staff will be in touch with you shortly to help answer your questions. Also, many questions about trips to this community are answered under Mission Trip Details & Logistics above.
Recent Stories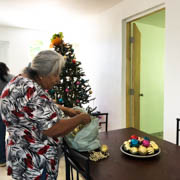 The Thrill of Hope
The hundreds of volunteers that have shown up to work on homes over the past seven months have been able to accomplish insurmountable amounts of work, but I can't help think that there's a greater hope being built along the way...
Read More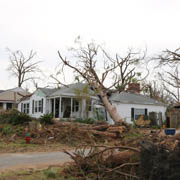 Hurricane Michael: Where There Is Need, There Is Jesus
It will be months and months and maybe even years before the Panama City area can return to its original normal, but there is a resilient spirit that is rising up within its residents.
Read More
Experience Mission has specific policies regarding registration and withdrawal. Please refer to the document below for specifics.
INDIVIDUALS
All volunteers on a week-long EM mission trip must be part of a team of at least six (6) people, with at least one team member age 21 or older to serve as the Team Leader. Not part of a group? All young adults ages 18-30 are eligible to apply for EM's IMMERSION program.
EM's Health & Safety plan provides the following:
Staff certification:
All Summer Staff are certified in First Aid and CPR.
Medical kits:
Medical kits that include first-aid supplies for general accidents and ailments are provided for each site. In international locations, we will also carry a Trauma Kit or First Responder Kit. In these remote locations we will have medications like Tylenol, Ibuprofen, Benadryl and Imodium on hand. We make these available to adult team leaders for their sole discretionary use with their team members. EM Staff will not dispense any medications. In our domestic and international locations, we ask that teams supply their own medications like Tylenol, Ibuprofen, Benadryl and Imodium as they deem necessary.
Emergency response plan:
Based on the severity of each emergency, EM has a plan for appropriate response.
- If a team member becomes seriously ill, they will be taken to a local doctor to receive appropriate medical attention and medications. If they are a minor, their Team Leader along with our staff will accompany them to the clinic. If needed, their parents will be contacted. Their recovery will be carefully monitored by our staff.
- If there is an accident that requires a doctor, but is not life threatening and does not have the potential to cause permanent damage, Experience Mission staff will locate the Team Leader, contact parents or guardians (providing the injured is a minor) and provide safe but quick transportation to a local clinic.
- In the event that an accident occurs which is life threatening or has the potential for permanent damage, emergency medical care will be secured and arraignments will be made if necessary, to transport the injured person to the United States as quickly as possible providing they are serving in one of our International locations. In our domestic locations, local 911 services will be contacted immediately. The family will be contacted immediately to assist in guidance for appropriate response.
All medical care is the sole responsibility of the team member.
Experience Mission requires every team member to be covered by domestic medical insurance and recommends that team members traveling abroad carry additional international travel insurance to cover any medical needs their domestic medical insurance may not cover.
Immunizations:
As with all mission trips, it is essential that volunteers are up to date on all childhood immunizations. Each volunteer must also have a tetanus shot.
For a more information about health concerns and recommended immunizations, you can visit the
CDC travelers guide to Puerto Rico
. You should consult your local doctor prior to receiving any immunizations.
Mission Trips involve many details, and we know you probably have a few questions about EM mission trips.
Partner with EM on a Mission Trip
1
Fill out an
Interest Form
2
Let us help you find the best trip and Register your team
3
Serve on a life-changing mission trip
Need to know more?
View our FAQ or Registration Policy. If you have additional questions or don't see the dates you're looking for listed above, please call us at the EM Service Center at 888-475-6414 or Fill Out a Group Interest Form.