Support the Ongoing Ministry of EM
Donations go toward where they're needed most in our efforts to spread Christ's love by mobilizing volunteers on short-term mission trips, developing leaders, and empowering communities.

Sponsor a Mission Trip Volunteer
Donate to sponsor a 1 or 2-week mission trip volunteer and help make their mission a reality.

Sponsor IMMERSION Team Members
Donate to sponsor an IMMERSION team member serving around the world for 1, 3 or 6-months.

Support EM
Summer Staff
Donate to support summer-long ministry service of EM field staff members and interns.

Support EM
Field Staff
Donate to support individuals serving in a leadership role on EM mission trips.
Active Fundraising Campaigns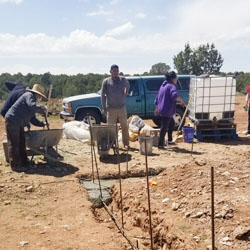 To better serve their community and reach out to their neighbors, Pastor JR and the Tse ee Gai House of Joy Church community are in the process of building a large warehouse on the church grounds to expedite the process of receiving, storing, and distributing supplies to those in need.