AGE GROUP:
Jr. High & Up

July 22 - August 17, 2018
May 19 - August 16, 2019

COST: $375/person
(6-Day Trip)
Discover "Kentucky's Mountain Treasure" among the peaks and hollows of Pike County as you encounter rural poverty but also small town hospitality. Despite the quiet, scenic setting, you'll quickly learn difficult statistics about Pike County, like how the high school graduation rate is 61% and the unemployment rate is almost 9%. Your Kentucky mission trip team will see the effects of a poverty mindset and how it can be difficult for people to break free.
Appalachia mission trips give you the chance to build authentic relationships with locals and bond with your teammates while also meeting practical needs. Help neighbors with home repair projects and work alongside community leaders who are challenging children and youth to dream of a brighter future. Will you commit to sharing your faith as you connect with neighbors in these small Kentucky communities?
Community Profile
In the heart of the Bluegrass State of Kentucky, we find the beautiful Pike County. Pike County is known as Kentucky's "Mountain Treasure." Pike County is Kentucky's largest county in terms of land area and has a population of 68,736.
History
Pike County was founded in 1821 and was named for General Zebulon Pike, the same explorer who discovered Pikes Peak. You may have heard of Pike County as they are known for the famous Hatfield-McCoy feud. This feud was an Appalachian vendetta between two families that lasted from the 1860s up to the 1890s.
Pike County is true to the Appalachian way of coal mining and has trademarked itself as "America's Energy Capital" because of their immense reserves of coal and natural gas. They are a leader in the nation's coal & gas production and are continually developing strategies to further lead the nation into more comprehensive energy plans. Pikeville, a town within Pike County is the 3rd largest banking center in the commonwealth and is considered an economic hub in Eastern Kentucky.
Natural Environment
The state of Kentucky is home to over 90,000 miles of streams which makes it one of the most expansive and complex stream systems in the nation. Including the immense expanse of rivers, Kentucky is home to many great parks, including Breaks Park which borders Virginia. Breaks Park has a breathtaking view that will leave you in awe of our Creator as you experience what is known as the "Grand Canyon of the South."
Lifestyle
While many people residing in Pike County enjoy modern conveniences such as TV, computers, phones, etc., there are still many who resist those conveniences and choose to enjoy the simple mountain life without those conveniences. While they are few and far between, there are some people who live in the mountains with no electricity, running water, or vehicles; rather they rely on nature to provide them with the means to maintain life.
Kentucky is true to its heritage and Pike County hosts an annual, "Hillbilly Days"—a three day festival that draws people from all over.
Needs
The median income per family in Pike County is $29,000 per year. Many of the people who live under the median income are elderly or disabled. Because of this, the elderly or disable families, as well as other families who have fallen on tough times, fall through the cracks and do not make enough to pay for the labor of keeping up their homes. There is a large need for manual labor as well as skilled labor.
Religion
Pike County is home to many small mountain churches. Religious roots travel deep in the hearts of the older generations especially. Evangelical Protestant churches such as The Free-Will Baptist Church, Southern Baptist Church and other Baptist Churches are a high segment of churches in the area. The state of Kentucky is home to several seminaries which have influenced the religious culture of the area. In Pike County resides Pikeville College, which is affiliated with the Presbyterian Church.
Trip Activities
Work Projects
Work projects are organized to support the needs and vision of the community and designed to connect team members with the local people of Pike County. There is a large population of elderly & disabled "shut ins" in this community and many are the focus of our projects.
Your team will be involved in home repair and community restoration work projects that reach out to those in need in various practical ways. We will work in neighborhoods with a diverse group of people and circumstances. Team members will have the opportunity to share their lives through service, prayer, and time spent with the families and children they come to work among.
Outreach Ministry
Due to the unique nature of this community, the opportunity for relational ministry may take place directly at project worksites as volunteers come alongside and encourage those come to serve.
There may be additional opportunities to serve in various types of relational ministry if the need arises. These could include: visiting the elderly, singing at a nursing home, gardening, cleaning, etc.
Children's Ministry
Depending on the specific needs of the week you serve, Experience Mission may or may not hold an organized Kids Club. Teams will be notified several months prior to their trip if Kids Club is an opportunity. If Kids Club is included as an opportunity for your team, participation will be optional. If your team chooses to participate in Kids Club, Experience Mission will provide the curriculum for your teams use. This Kids Club curriculum will be sent out to Team Leaders in the spring via email.
Teams will be responsible to bring the craft supplies needed for their specific crafts and should budget appropriately. While we do our best to make sure craft materials are cost effective, teams may feel free to augment any materials to make them more suitable to their budget. Experience Mission will supply scissors, staplers, paper hole punches and rulers. There are plenty of opportunities to connect with the local children through games like soccer or Frisbee. Tuck in a hackysack, football or jump rope as they are sure to come in handy!
*Experience Mission works closely with local leaders to identify work projects and ministry opportunities that address authentic needs within the community. We ask that you come with a servant's heart and willingness to adapt to the unique qualities represented in each location. Opportunities can vary significantly from one week to the next. Your team may work at one location or serve at multiple locations each day. Due to the changing needs of our community partners, we cannot confirm your specific daily activities until your team arrives.
Spring Break Trips
Due to staffing limitations and varying school schedules in our community locations, Kids Club and Evening Gathering are not offered during spring break trips. Teams should plan to prepare their own worship and devotional materials for trips from February-May.
Typical Schedule
Each morning, there is time set aside for devotions and quiet time. This is a valuable time and we strongly encourage all team members to spend it with God, journaling their thoughts and experiences as the days unfold.
Our staff will lead a time of debriefing and a short devotional in the evening (what we call "Evening Gathering") and it is always a great addition to have musical worship. Our programming does not include musical worship as we can't guarantee that our our staff will have this ability. Please let us know if you have anyone who sings or plays guitar on your trip so that we can help to coordinate the musical aspect of worship when able. If teams aren't able to help in the area of music, it may not be a part of the trip.
AVERAGE DAILY SCHEDULE
Day 1
3-6pm Groups Arrive
5pm - Leader's Meeting
6pm - Dinner
7pm - Orientation Meeting
8:30pm - Team Time (a time for your group alone)
11:30pm - Lights Out
Day 2-5
7:15am - Breakfast
7:45am - Devotions and Quiet Time
8:15am - Group Prayer
8:30am - Teams leave for Sites
12pm - Lunch
3:30pm - Finish work for the day
4pm - Break and Clean-up
5pm - Leaders meeting
6pm - Dinner
7pm - Evening Gathering (as a whole group)
8:30pm - Team time

Day 6
7am - Breakfast
7:30am - Cleanup/ Packing
9am - Pictures and Good-Byes
Lodging, Food & Transportation
Lodging
Teams in Pike County will stay in a church. We partner with several churches and the exact location will be determined closer to your trip.
Sleeping
You will be sleeping on the floor and should plan to bring an air mattress or a mat. Team members should plan to bring light bedding or a sleeping bag and a pillow.
Showers & Bathrooms
There will be showers and bathrooms for your team at the place you stay. Most work sites will also have bathrooms. On the occasion that there are no facilities where you are working, teams will need to take breaks midday to use a public restroom.
Water
There is running water in Pike County. Teams will have access to it where they are staying, and at most work sites. Teams should plan to bring refillable water bottles to stay hydrated at work sites.
Electricity
There is electricity in Pike County that will be available where teams stay as well as at most work sites.
Security
Pike County is a safe area in general. The facilities where teams stay will be locked throughout the night and Experience Mission Staff members will do a sweep to make sure the facilities are secure before retiring for the evening. There is minor petty theft in the area. For this reason, we recommend teams leaving all valuables (smart phones, computers, jewelry, etc.) at home. If a team does bring some valuables, the best way to keep them safe is to store them in a locked vehicle during the day.
Food
A wonderful team of local cooks, alongside your Experience Mission Summer Staff, will be preparing and serving your meals. Breakfast and dinner will be served buffet style, and your team will pack their own lunches each morning. Team members should plan to bring their own plate, bowl, cup and silverware for meals.
Transportation
Your teams transportation to, from and while in Kentucky is not covered. You will need vehicles throughout the entire week to transport your team to various locations for work and ministry. Using a school bus as your main mode of transportation while in this community is not an option. Our work in Pike County can only accommodate standard 15 passenger vans or smaller.
Interested? Start here!
If you're interested in bringing your group on a mission trip, fill out this quick interest form! Our staff will be in touch with you shortly to help answer your questions. Also, many questions about trips to this community are answered under Mission Trip Details & Logistics above.
Recent Stories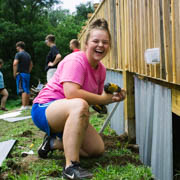 Sticky–Note Schedule
Living life with hands and mind open to where that day leads may just be the most life-giving way to live this life God has called us to.
Read More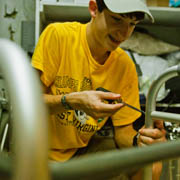 Connecting the Dots
It is a very special thing to be able to walk around town and know the people you pass by, and we are just beginning to see all the connections between those people.
Read More
Experience Mission has specific policies regarding registration and withdrawal. Please refer to the document below for specifics.
INDIVIDUALS
All volunteers on a week-long EM mission trip must be part of a team of at least six (6) people, with at least one team member age 21 or older to serve as the Team Leader. Not part of a group? All young adults ages 18-30 are eligible to apply for EM's IMMERSION program.
Partner with EM on a Mission Trip
1
Fill out an
Interest Form
2
Let us help you find the best trip and Register your team
3
Serve on a life-changing mission trip
Need to know more?
View our FAQ or Registration Policy. If you have additional questions or don't see the dates you're looking for listed above, please call us at the EM Service Center at 888-475-6414 or Fill Out a Group Interest Form.