Traffic inches forward as the smell of fresh pine fills the cabin of the car. The low melodious drone of chainsaws fills the quiet space. Trees lay in stacked mountains alongside the road. Lineman crews line the busy intersections, main streets, and alleyways. It has been two weeks since Hurricane Michael made landfall, and the residents of Panama City, Callaway, and Lynn Haven are still digging out of the carnage the storm left behind. An announcement was sent out by the local power company a few hours ago that over 95% of the power has been restored to the nearly 103,000 residents of the Panama City area—a near miracle considering the fact that a majority of the electrical grid had to be completely replaced over the past two weeks. Gas stations, a select few restaurants, and a handful of stores are open again. The community took a hard hit from Hurricane Michael, but Panama City and its surrounding communities are strong!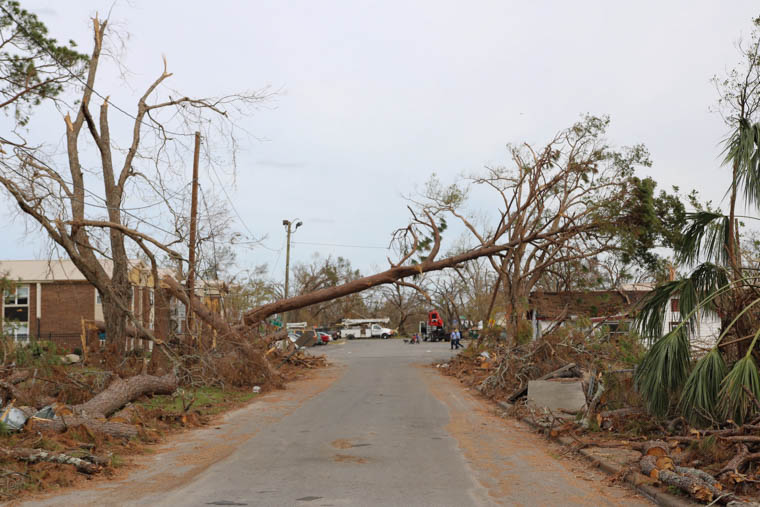 My wife Sara and I had the pleasure of meeting with a local pastor named Eddie. Eddie is no stranger to hurricanes. He moved to the area a few years back but told us about his experience with Hurricane Katrina. His thoughts seemed to go in one hundred directions as he began sharing his story. That was understandable considering what he was sharing. Pastor Eddie decided to ride out Hurricane Michael in his parsonage home next to the church. As we were standing inside his home he pulled out his phone and showed us a video he had taken from his back porch an hour after the storm made landfall. You could see the rain coming down in sheets and being blown about by the ferocious winds.
He and his wife stayed in their house through the majority of the storm before the eyewall passed over them. As the eye drew closer the storm intensified. His roof began to lift and he could see his exterior walls begin to sway as he sat in his living room. At that moment he decided it was time to make a decision. The moment things calmed down, he and his wife ran to the church, which was about 30 yards away. They made it safely into the church, and a few moments later a portion of the roof let go.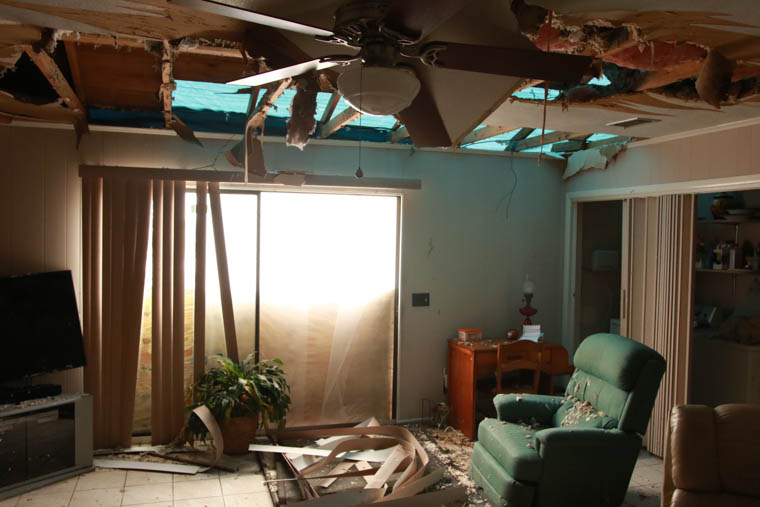 The following day he and his wife began grilling some food at the church for the two of them to eat. People began stopping by and asking for food. Pastor Eddie had to turn them away. He only had food for him and his wife. Heartbroken, he decided that could not be how he and his church would respond in this disaster. The searched the church's refrigerators and freezers for whatever food they could find. They began making soups for whoever would stop by.
One thing led to another, and before you know it Pastor Eddie's church became a donation collection and distribution center. The church began feeding meals, distributing good, and serving 1,500 to 2,000 people each day. FEMA was on site meeting with people that needed help, and Pastor Eddie's church, due to the faithfulness of he and his congregation, became a beacon of hope in the midst of disaster.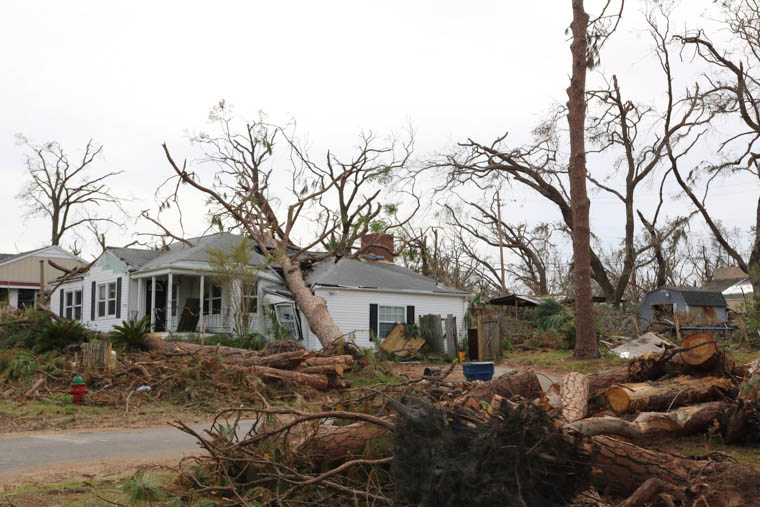 It will be months and months and maybe even years before the Panama City area can return to its original normal, but there is a resilient spirit that is rising up within its residents. Pastor Eddie is only one story. Churches all over the area are reaching out and ministering to the people who are in desperate need during this time. So many churches have become donation centers where people can come find non-perishable foods, water, and a hot meal. Families are serving who have also been impacted by the chaos. As we have had the opportunities to listen to stories from such incredible people this week Isaiah 40 has been at the front of my mind:
Do you not know? Have you not heard? The Lord is the everlasting God, the Creator of the ends of the earth. He will not grow tired or weary, and his understanding no one can fathom. He gives strength to the weary and increases the power of the weak. Even youths grow tired and weary, and young men stumble and fall, but those who hope in the Lord will renew their strength. They will soar on wings like eagles; they will run and not grow weary, they will walk and not be faint.
Where there is devastation there is hope. Where there is lack, there is plenty. Where there is need, there is Jesus.
A phrase has gained popularity that encapsulates the spirit of Panama City, Callaway, Lynn Haven, and the surrounding areas. That phrase is "8-5-0 Strong." 8-5-0, you are strong. You are resilient. And you are not alone.
—
Join us! Bring your team on a Disaster Relief Mission Trip!