As I walk into the house, I find my host parents enjoying a cup of tea in their bedroom while watching an Indian sitcom, all comfy cozy in their bed.
"Marhaba!" (hello in Arabic)

"Ah! Mesa il hare!" (good evening) they reply.

"Drink something?" my host mother Amal asks.

"Sure!"
I walk over to grab the cup of hot tea with sage, as I reach for it, Amal insists that I sit down on the bed. She pulls up the blankets and scoots over closer to her husband to make room for me, and set up a pillow for my back and threw the covers on top of my legs. As I awkwardly parked myself in their bed, not quite sure if this was something I was supposed to be doing, the next think I knew my host father, Abu Michelle, swings his arm over with a fist full of shelled peanuts, and an ash tray to put the shells in. I accept his generous snack. "Biscuit?" Amal asks. With a twinkle in her eye as she knows she is making me an offer I can't refuse. (I'm not kidding, I've gained the Holy Land 15). Once the 3 of us got settled into their new spots, Amal and Abu Michelle went right back to watching their show, as if having some random American girl tucked in their bed is completely normal.
Weird, right?
Another one of those moments where I just pause and absorb exactly where I am in the moment. And I can't help but giggle at my reality. Never would I EVER think or imagine that I would be snuggled up in bed with peanuts in one hand, tea in the other, and cookies on my lap, watching an Indian soap opera with Arabic subtitles. It's truly comical.
What I just described would probably be a little abnormal to do with people I just met. But there was something endearing about it here. It was a symbol of their love, kindness, welcoming hearts, and adoption into their family.
Though they live in a land with a wall that blocks them from the rest of the world, there are no walls in their hearts, there are no walls toward me. A true picture of embracing people, no matter who they are or where they come from.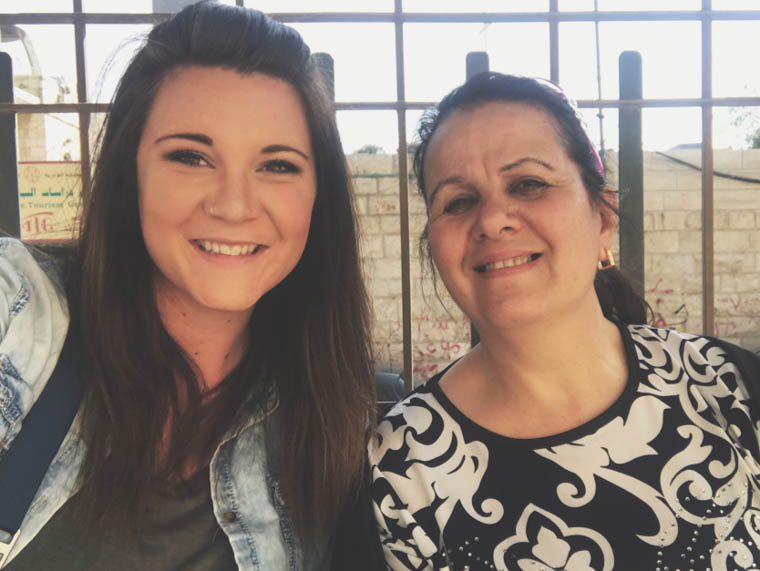 I so desperately wanted to talk with her, have deep conversation and get to know her story. I wanted to know her thoughts about living under occupation. What is it like for her to live with a wall separating them and creating very tangible limitations? Where was she when there were war and bombings? How did she manage raising 4 children? What gave her hope? What gave her courage? What are her thoughts about me living here in Palestine with her?
With her broken English and my impaired Arabic, our level of conversation was constricted. I didn't get to hear her story or what has been defining moments in her life. Though our communication was limited, somehow we made it work. I didn't get the depth of her past, but much of what she communicated was not through words. It was through her actions.
Apart from her being the example of a traditional house wife with her cooking and cleaning skills (something I am still learning and Palestinians are a great example of how to do it justice), Amal's actions of selflessness and affection will be something I never forget. She serves her family with her whole being, and is devoted to providing for her community on a daily basis. She loves with a giant heart, and laughs with every muscle in her face. She represents compassion, joy, hard work, strength, friendship, and affection. She served me relentlessly with her asking if I needed anything. Even if I responded no, 15 minutes later she would show up with a plate of something and put it on my bedside. Every morning she knocked on my door with a bowl full of cornflakes with hot milk. And every evening she made sure I was happy by simply asking me, "Jesseeca, are you happy?" Yes, Amal. I am beyond happy.
Conversation was minimal, but her actions spoke volumes.
Who knew you could receive so much love and affection from people you just met? Certainly not me. For I've realized I live with a self-constructed wall around my own heart.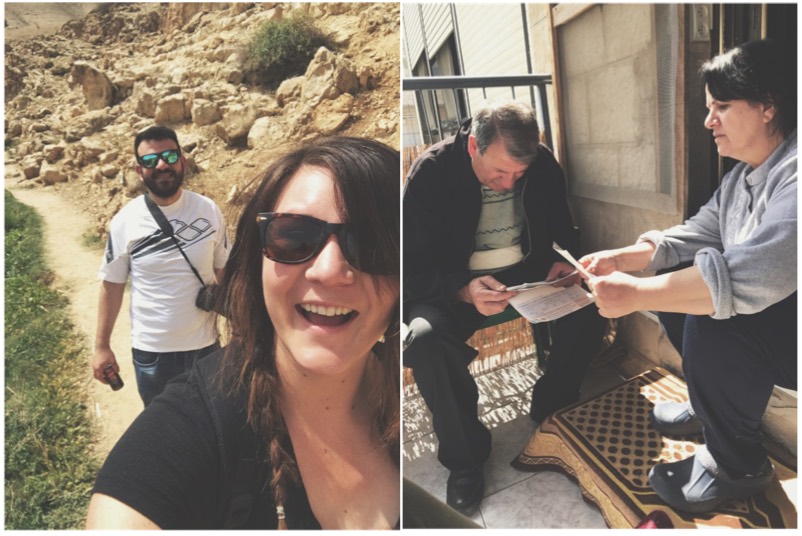 Thank you Amal, Abu Michelle, Charlie (my brother who I like to call Hermano), Ruba, George, Rana, Samer, Orianna, and JuJu.

You are all amazing.

I love you.
Sincerely, 

the happily adopted bed snuggler