Life has been a whirlwind lately but in the best way possible. We started serving with an organization in the inner city of Pretoria, South Africa and our six weeks there certainly flew by. This organization offers outreach to various people in the community. We mainly worked with their youth program which is basically an after-school program for the local students. The kids not only come to get help with homework, but they also get time to enjoy praise and worship with the amazing staff. My team and I got the opportunity to lead the kids in song and prayer.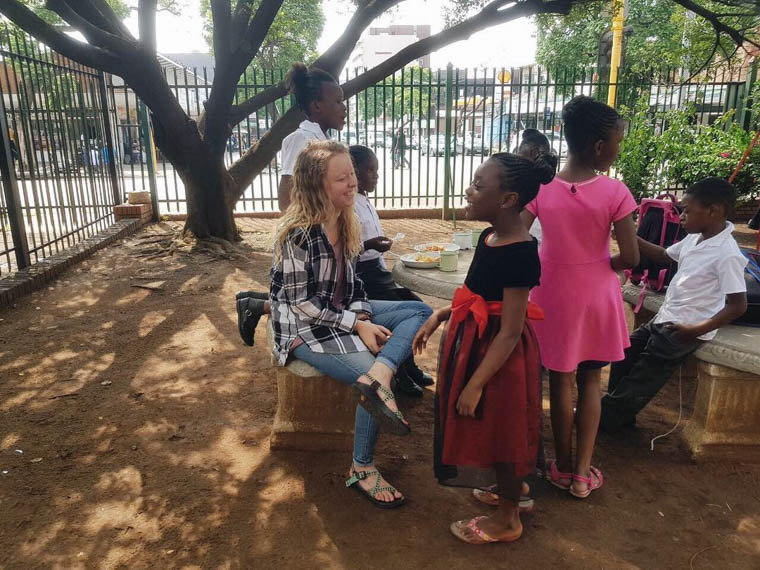 Before the kids would arrive every day, we would help wherever it was needed. We helped organize, clean and cook for the kids. I would go into more detail, but that certainly was not the most important part of our time spent there. In the midst of all the work we were doing, we were building very strong bonds with the staff and kids.
I think it's safe to say the thing I will remember most about our time spent is the relationships we built with each other.
On Fridays, my team and I got the opportunity to serve at other parts of the organization. We volunteered at two preschools and the men's homeless center, but I really saw God at work at the women's center. This specific location aids women who have been involved in the sex trade, prostitution or living on the streets.
I had the opportunity to sit with a woman who moved to Pretoria looking for work a few weeks prior but was now living on the streets. She didn't speak much English but she sat with me and held both my hands. It was so powerful to be able to sit with her, show her love and hopefully provide a sense of security for her. I asked her if she knew God and her face lit up as she said, "Oh yes, big love, big love," with her arm stretched wide. We continued to talk about His love for us and she reminded me that He is always with me. Two things about this moment really stuck with me:
1. Even though she was going through a very troubling time in her life, her faith was very much alive. This was truly inspiring for me to see.
2. Even with our language barrier and very different lives, we were able to connect so quickly through our relationships with God and His Love for us.
I have been spending some time in the book of Romans. My favorite chapter is Romans 12 which is about giving your life as a living sacrifice to serve God. Romans 12:9-11 (The Message) says, "Don't just pretend to love others. Really love them. Hate what is wrong. Hold tightly to what is good. Love each other with genuine affection and take delight in honoring each other. Never be lazy, but work hard and serve the Lord enthusiastically."
Our time in Pretoria felt too short and it is surely bittersweet to be continuing this journey to the rural community of Darling, South Africa. Please keep my team and me in prayer as we travel to the Western Cape to live, serve, and worship for the next two weeks.
—