Mission trips are an amazing way to put your faith into practice, learn to serve others, and love like Jesus. For many mission trip participants, the simple act of saying 'yes' getting out of their comfort zone is the first step in a deeper trust in God and a willingness to step into the unfamiliar to love others well. But, this experience also comes with a cost.
To serve in an under-resourced community, you have a responsibility to cover your own costs AND invest in the community in helpful, dignifying ways. But what if you can't afford it?
Experience Mission has sent more than 35,000 short term mission volunteers to partner and serve alongside ministries across the US and around the world, and we've found that personal support letters are one of the most effective ways to ask for the prayer and financial support you need to go. Sending support letters is a vulnerable step in committing to go, with faith that God will provide, but it can be intimidating to know exactly what to say. Here are 5 things your mission trip support letter should include:

1. Make it Personal
Begin with a greeting addressing the people you are writing to. These will likely be close friends and family members, so they would love to hear how you are doing personally!
Tip: Consider the presentation of your letter. Make your support letter a fun and interesting piece of mail! Most mail we receive comes in the form of bills and bank statements, many of which are plain text on white paper. Black "Times New Roman" font on copy paper will excite people about as much as black "Times New Roman" font on copy paper can. Don't be afraid to break outside of the traditional format. Add a picture of yourself. Add a map of the general location you're going to with a star on your destination. Be creative, get to the point (we recommend one-page letters), and above all, be yourself!
2. Give Context
Take a paragraph and explain why you feel called to serve on a mission trip and how you selected the particular trip, organization or community. Also, explain how you are working to support yourself in this mission.

3. Explain What You Will Be Doing
Your supporters will want to know what their money is going to. Take a moment to explain a little about what you will be working on and doing on your trip. This is an opportunity to highlight the ministries that you will be partnering with! It can be tempting to fluff or exaggerate what you will be doing in a way that makes you seem like the savior to the community. Keep the focus on the work that God, local partners, and long-term volunteers are already doing in the community. Then, explain how you're going to support their ministry.
4. Tell What You Hope to Learn
Short term missions experiences should be long-lasting. The impact that you make in the community is about way more than just the week (or months) you are there. Similarly, your trip should change you, propel you forward, and teach you to live your mission more effectively at home. Whether you are hoping to develop a deeper faith, learn more about God's love for others, or to put ideas of service into practice, explain how this trip will help you grow and impact your own local community in greater ways once you return home.
5. Ask For Support
In order to accomplish the goal of your letter, you'll need to make an ask! When fundraising, it's important to make a clear path for supporters to help your cause. You can outline a particular amount that you are hoping to raise from each person. (Think, if you send your letter to 50 people, how much would each person need to donate in order for you to be fully funded?) Also, give clear instructions for how to make a donation.
Tip: At Experience Mission, all team members and IMMERSION participants are equipped with the ability to accept online donations. Participants can easily provide a direct link along with specific instructions for how to send cash and checks.
Remember, don't just ask for monetary support! Ask your friends and family to pray for you, encourage them to join any events you will be hosting, and invite them into your journey.
EM's Example Mission Trip Support Letter: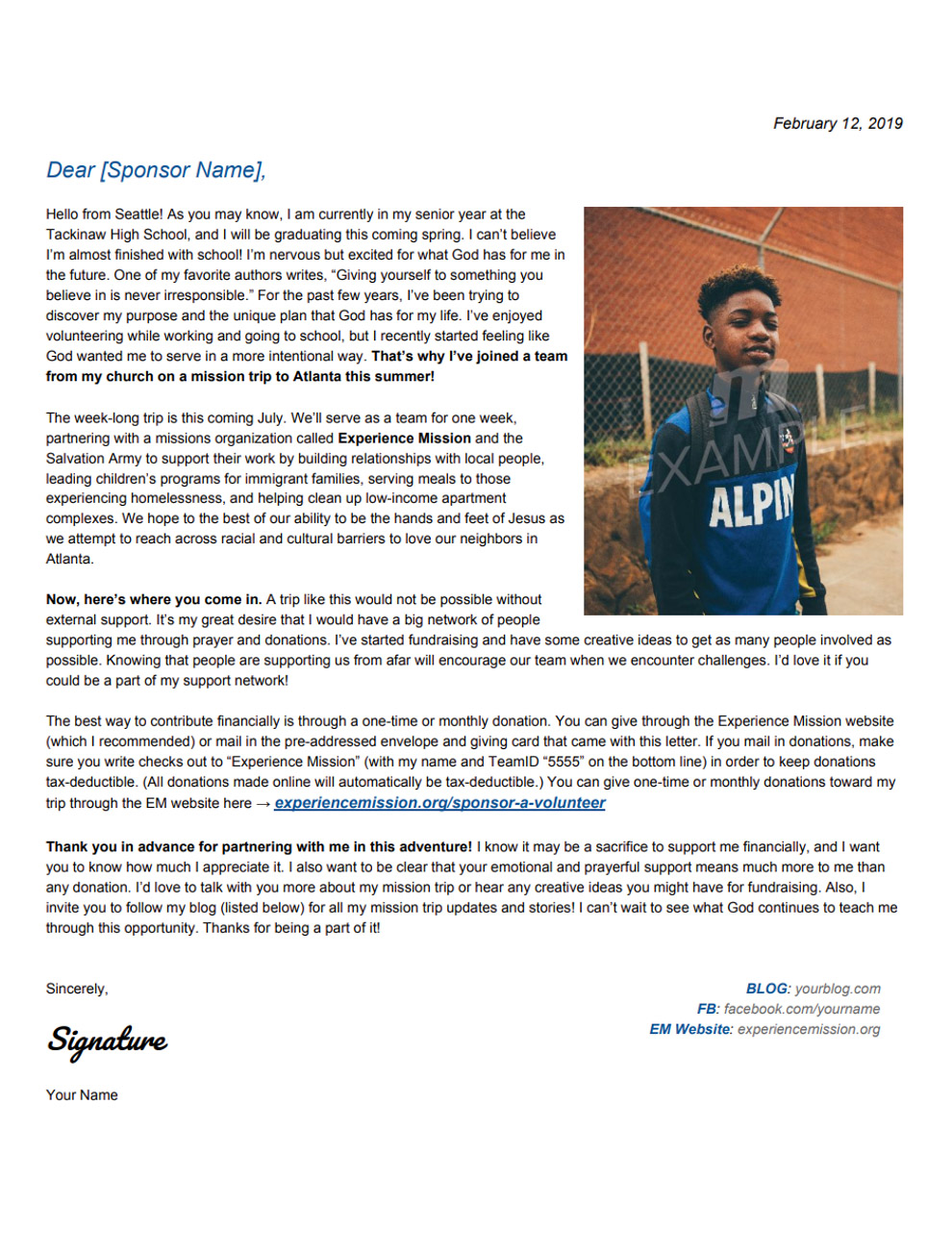 Note: It might seem intimidating to create a formal letter that looks professional, but you can do it! This example was created entirely using Google Docs, a free online word processor.
Now it's your turn! Start drafting your letter and share the news with your friends and family. To make this letter even more impactful, consider waiting to make an announcement on social media until your friends and family have received the letter or heard from you personally. They will feel more invested in your journey and may get inspired to support you more. As you prepare for your trip, we're behind you and hope it goes well!
—