From the time we crossed the threshold into the Kroc Center of Atlanta, an overwhelming sense of love and Christian fellowship has enveloped us into a hug so warm it can only stem from the Georgia heat.
The people here are so kind and compassionate. They have truly welcomed us into their community. We spent our first few days here traveling around to the different sites that will come to fill our days, weeks, and month here in Atlanta and meeting the strangers who would soon become friends. While we are here, we are attending church at the Kroc Center with the Salvation Army's South Atlanta Corps. (We've spent a lot of time getting used to the culture of the Salvation Army and learning all of the proper positions and titles of its members and leadership.) The people here have been such an encouragement and a true picture of Christian love and care.
One of the most impactful conversations we have had so far during our time here has been with one of our nighttime security guards, Moses. Moses came to the United States from Liberia, and he is currently working on his second Master's Degree. He shared his story with us about his struggles in a war-torn nation and his calling into ministry. He shared about how the war took both of his parents from him and how the Lord saved him from being executed for being a Christian when a gun was pointed to his chest. He shared about how his calling changed from the medical field to spreading the Good News of Jesus Christ.
He spends many of his nights here at the Kroc walking the halls reciting scripture to memorize the Bible. When we asked him what he wants to do next, he replied, "What I'm already doing. Ministry."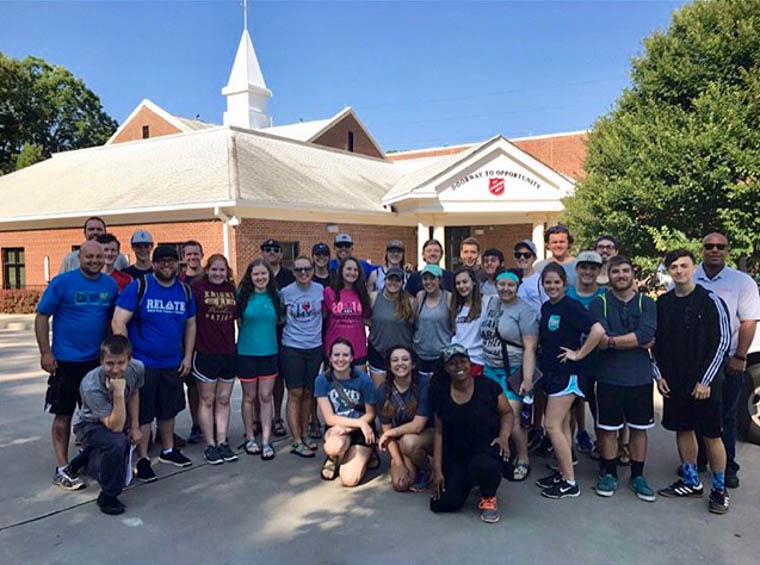 Moses' story was such an inspiration to us as we began our first week working with a team from Tennessee. This particular team comes to Atlanta every summer to continue to serve this community and deepen the already existing relationships they have formed here. It is so uplifting to see a church dedicate so much time to foster relationships year after year with the children in this community. It was a pleasure to see the kid's faces at Kids Clubs as they recognized some of their friends from the year before. The Lord is truly at work in this team in this place.
Every week, we take the teams out to serve the homeless population of Atlanta with the Salvation Army's canteen truck. We prepare a meal to hand out and make stops at different parts of the city to distribute the food. The most important part of these nights is not handing out the food, but the opportunity to connect with and encourage the people we meet.
Many say that this time spent listening to individuals' stories and being able to pray for them and give them a meal is the highlight of their week.
Alonzo is our canteen driver. He is a church member here at the Salvation Army, and he is passionate about his ministry. For 25 years, Alonzo lived on the streets, struggling with addiction. After being saved by Christ, Alonzo is now able to return to these areas as a light.
On Wednesday night this week, we were giving out meals to people under a bridge, where Alonzo had told us he lived for the last few years of his time being homeless. When we saw a medical truck pull up to check on these people, Alonzo recognized one of the workers as being a man who helped him and cared for him during his time on the streets. It was amazing to witness Alonzo go up and introduce himself to this man and be able to thank him and encourage him! I'm sure it was so encouraging for the medical worker to see the transformation of a man he had previously helped. Many of us there that night had tears in our eyes as Alonzo expressed his gratitude to the Lord and his hope that those still living in that environment would come to see Christ as their savior and turn their lives around.
It has been a busy week full of building relationships and learning our way around the city of Atlanta, and we are excited for the arrival of our next mission trip team!
—