Wow! It's hard to believe that we are already through week three here in South Africa, and only have three weeks remaining before transitioning onto Lesotho—the time has certainly been flying by!
In those three weeks, life has settled down a little bit and our days have become more routine (in a good way!). We leave for school at 7:45am each morning, and arrive back home around 4:30pm. My homestay is with my teammate Shin in the home of a young couple named Emil and Lelanie who are currently pregnant with twins. Our nights together are full of Wii bowling competitions, cell group (a group of people from their church who gather to talk about God and do life together), and watching their favorite show on TV, "So You Think You Can Dance." It is fun to learn more about the local way of life here through them, and I am enjoying getting to know them better each day.
At school, I have also had the pleasure of getting to know a wonderful group of young adults who volunteer for an organization called Trust Hope Faith (THF). The THF volunteers organize an afterschool program at our school Monday through Thursday, and it has been incredible to watch them in their interactions with both our team and the kids. Each member of this group personally embodies what it means to have a servant's heart. For them, it's not about what they can get out of the experience, but rather, how they can give back to their community.
A fitting verse that comes to mind when I think of their service is Matthew 5:41, "If anyone compels you to go one mile, go with him two." This group consistently goes the extra mile, be it through the dances they choreograph to do with the kids, the scavenger hunts they put together for our team, or the devotions they deliver each and every day to inspire us. To me, they have been the perfect example of what it means to serve others well. Stated another way, "So in everything, do to others (MORE THAN) what you would have them do to you…" (Matthew 7:12).
Trust Hope Faith has been an inspiration to me and has challenged me in my service. Here, in their own backyard, they have found a need and have worked tirelessly to help meet it. Because of this group of individuals, I am more mindful of my daily interactions and how I can better serve others. I have found myself asking, When is the last time I complimented a stranger? Have I affirmed someone lately? Do I give up my seat for others? Am I willing to serve even when it means giving up some of my own comfort? Have I offered to pray for an unmet need? I am confronted with the need to do more, but am thankful to be discovering this lesson early on.
As 1 John 4:19 says, "We love because he first loved us." Although at its core this is truly a simple lesson, I believe it is something we can continually be improving upon throughout all of life. I look forward to serving alongside the THF volunteers for three more weeks, and learning how to better serve God and others on a daily basis.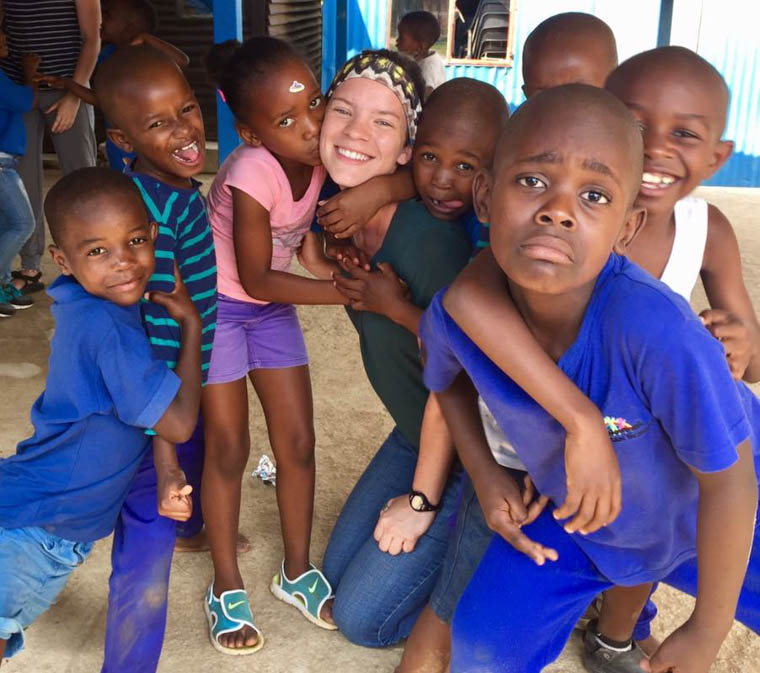 I am thankful for my homestay family, who has taken me under their wing and has generously provided for me; Olievenhoutbosch Christian School, namely the teachers and all of the incredible children; and the Trust Hope Faith mentors who inspire me on a regular basis.
Thank you for your continued thoughts and prayers throughout this journey, I am beyond grateful. God Bless!
—