It was an early morning in Haiti. I opened my eyes to be greeted with a herd of mosquitos hovering over my bug net. I wiped the sweat from my face, and jumped out of the tent ready to tackle the day. After throwing on the least smelly clothes I could find out of my four outfits, I brushed my teeth from my water bottle and ran out the front door. The city streets were already bustling with motorcycles and locals fetching water from the well as the sun took its time peaking above the horizon.
I hopped on the back of a motorcycle with my backpack in tow, ready for the hike and beach day ahead with the church community we had formed. Our Haitian friends had never been to this particular part of the ocean, so my five fellow travelers and I had no idea what was in store. Just as we were about to pull away and head to the mountain, my host mom, Daphne, came running outside yelling and waving her hands in the air. Behind her, my little brother stumbled down the stairs holding a very large metal pot. Daphne grabbed the pot from Junior's hands and while sporting the largest smile manageable, handed me a 10 pound pot of Haitian spaghetti. The glorious noodle, hot dog, pepper and onion combination was my favorite food we ate in Haiti—and coincidently was one of the few things I didn't get sick from. Lather that pot of magic in room temperature ketchup, and I promise you would be drooling too after weeks of rice and questionable meat.
I stared at Daphne blankly. Why was she giving this pot to me? It's 6am and I'm on the back of a taxi moto—what in the world am I supposed to do with this? My friend Wilson explained that she was sending us with food for later on the beach, because we were going to be gone all day hiking and swimming. Commence even more confusion. My type A brain was thinking through the logistics of this 10 pound steaming pot of goodness. Has Tupperware not made it's debut in Haiti? Or Ziploc bags? Daphne started aggressively pointing to my bag and Wilson prompted that I should load it in the main compartment. Well then.
So that's the day I hiked a mountain in Haiti with a pot of spaghetti in a backpack.

A physical pot.
On my back.
Up a mountain.

Classic Haiti.
I share this story, because first off—who does this? In our American brains, it's hard to sometimes fully comprehend other cultural norms that don't result in a second of questioning in another country. But more importantly, the further removed from my trip I get—I hold these little exchanges sacred.
Daphne loved well and she loved hard.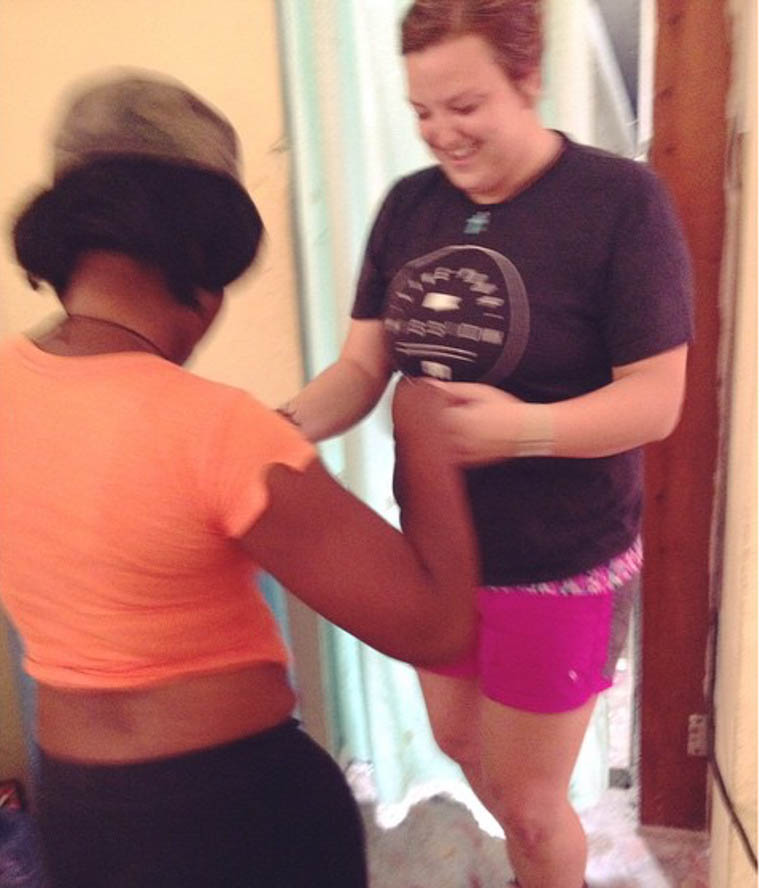 For her, sending a pot of steaming spaghetti with her American daughter going on a hike was a knee jerk reaction. A girl's gotta eat, right? But what I love most about this memory is that Daphne wasn't worried about the details. She didn't think through how much sleep she would lose by waking up at 3am to cook this meal on her single burner coal stove. She didn't falter when questioning how we would get it to the beach. The logistics didn't matter.
In hindsight, it's a goofy and outrageously perfect representation of what true love looks like. It doesn't always make sense. It's uncomfortable. Yet, this is how we're called to love others; in boisterous ways that sometimes result in us shaking our heads. Daphne didn't need to justify all of the steps that went into this gesture of love. She just went for it, and gave it freely while sporting a huge smile.
I think I spend too much time plotting how to be more effective in my ways of love. I focus too much time over-analyzing relationships and what each person uniquely needs to feel loved, and I too often forget that it's not a science.
On a very basic human level, we all yearn to be loved.
I often think of Daphne's gesture, and am reminded that love is actually very simple. It doesn't call to be complicated or well-thought out. It's meant to be laced within simple daily actions that are selfless in thought and with no expectation of a return.
Friends, let's yearn to be a bit more like Daphne. Love well and love hard.