by Sarah Foster, 6M Africa Immersion team member
The 6M Africa team is 1-month away from completing their journey from New York City to three countries in southern Africa. Their last stop before home is six weeks in Rehoboth, Namibia.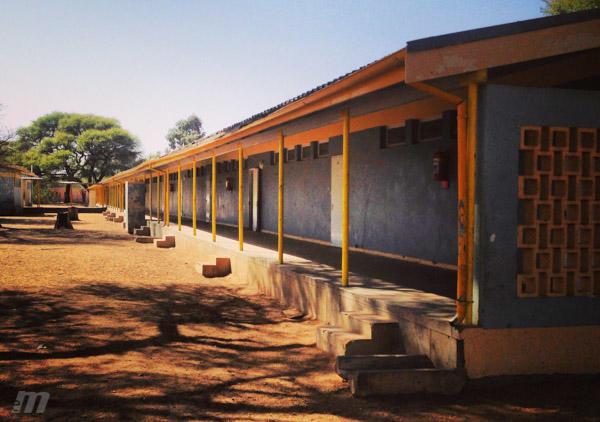 Namibia is a beautiful place.
The people are so welcoming, the land is gorgeous, and being here just plain makes me smile.
But every place has flaws. I'm filling in for a teacher on sick leave in grades 5, 6, and 7. I mainly teach a course called Life Skills. I'm covering topics such as teenage pregnancy, rape, abuse, HIV and AIDS, Hepatitis B and puberty, and I hate how relevant it all is.
I hate that I need to spend a whole lesson on how to care for a relative who has AIDS, and another lesson on AIDS treatment. I hate that a ten-year-old can name a whole variety of ARV drugs. I hate that they all suddenly pay attention when I answer what I wish wasn't a relevant question: "Can a girl get pregnant before her first period if she is raped?" I hate knowing that when I talk about neglect, at least one child in class is probably experiencing it and I hate when that thought is proved true by the class bully sobbing through the whole discussion.
I love that I'm here for them. I love that I'm close enough to their age that they aren't afraid to come to me with questions. I love that they're excited to come to class...even if it's just because I'm an American, at least they show up. I love that God put me in this place at this time! If one kid in one of my classes is spared a pregnancy, a disease or a drug addiction then this entire trip is more than worth it. If one kid speaks up about their abuse, my six months away from home are the best thing I've ever done.
But we have a big God, and I seriously doubt his plans are that small. I'm confident that he will use my time at Ruimte Primary School wisely. Even if, as I teach, the words tumble out of my mouth and barely make sense, the kids listening will hear what they need to. I'm also confident that God is with every single one of my teammates. We're at nine different schools. We work three different kids clubs each week. We spend time at a nursing home, with the youth group, and with the church's young adults. We help with Sunday school and attend the service. We spend time all over town and live with seven different families. We've been blessed with the opportunity to make connections with literally thousands of people. We wouldn't have these opportunities without a purpose.
We may never know the impact we have on this community, but I'm sure I'll never forget the impact this community has had on me.
LEARN MORE | Interested in serving in Namibia? EM is launching a special 1-month IMMERSION program next June and July (2015) for anyone 18 or older. Stay tuned!