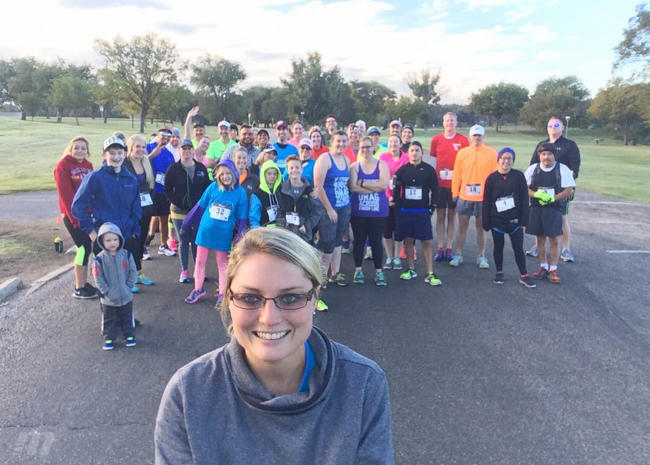 Julia is part of the 3M Namibia IMMERSION team departing in May 2016! She lives in Texas and is eager to meet the rest of her teammates as they start their journey together. Julia has had a lot of success in her fundraising efforts and recently chatted with Experience Mission's staff to tell us more about the process, the struggles, and how God has shown up in big ways.
EM: To start off, tell everyone a little bit more about yourself! And what motivated you to pursue IMMERSION at this point in your life?
JULIA: I'm 25 and I just finished my Master's degree. I'm someone who is always looking for the next adventure, but I really want to help and serve people. I've wanted to go to Africa for a long time, so when I heard about IMMERSION on K-LOVE [Radio] I knew I wanted to pursue it. I'm at the perfect time in my life when I don't have family obligations like a spouse or kids. It's just me, so I can step away from my 9-5 and take this time off! My schedule is always jam packed and I like to be busy. But I feel like God is asking me to trust Him and be still as I prepare to go live in another culture.
EM: Before you started, was the fundraising process intimidating?
JULIA: I had zero confidence. Normally I'm a pretty confident person, but I saw the price of the trip and started calculating other expenses I'd need to cover. That was the first moment I doubted God during the process. But I've learned that you shouldn't doubt God! I knew from the beginning that I wanted to do a big fundraiser and set big goals. I decided to plan a 5k in my community as a way to raise support for my trip. As soon as I started planning, I got worried and started to doubt again. Will people even show up? What if no one supports me? 3 weeks before the race, I wasn't even close to my goal. Then, 2 days before the race, I had exceeded the goal for that event!
EM: Had you ever done any significant fundraising before?
JULIA: Not really! I had an internship for 2 years at the Food Bank in Amarillo. I wasn't involved in the fundraising, but I got to observe a lot and see the process. It was a great learning experience and there were several key people who helped guide me.
EM: Other than planning for the race, what have been your other fundraising strategies so far?
JULIA: I sent out letters that were very similar to the example Experience Mission provided in the mission center. I also sent personal emails with the IMMERSION link, asking people to support me. People in my church have been really supportive and even people I don't know have found out about my trip and offered to help or donate.
EM: Can you tell us more about your most recent event? The Road to Namibia 5k Run/Walk!
JULIA: The race happened on October 24th and raised almost $5,000 total! On the day of the race, about 45 runners participated, but there were also "Silent Runners" or people who donated toward the cause but didn't necessarily show up to run. If "Silent Runners" gave at least $20, I gave them a t-shirt, but some gave as much as $300! It was $30 to race and each runner received a "Road to Namiba" t-shirt and bib, as well as food and water at the end of the race. I held the event at a local park, which required me to get a Parks & Rec permit. And since I served food at the end of the race, I also needed a Health Department permit. Both of these cost me about $25. It was cold on the day of the race, but everyone seemed to have a lot of fun! There were so many different people and groups from around Amarillo who came out to support me and several news stations even promoted the race beforehand.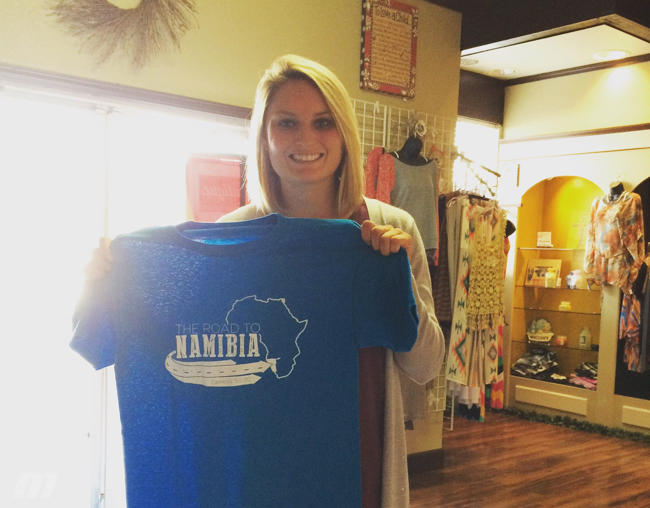 EM: Wow! That's a ton of support from one event! But it also sounds like a lot of work. Can you explain more of the logistics behind pulling off something like this?
JULIA: For registering runners, I used the website getmeregistered.com. It's free to use and they provide a lot of helpful tools to get everything organized. Although the cost for each runner was $30, the website charged around $33 for a registration fee, which actually allowed me to put the full amount toward my trip. My work donated several 24-packs of water bottles and a friend bought the food (granola bars and bananas). I actually found a running website that was willing to donate the race bibs, so I only paid shipping on those. I also had a few people who offered to work as volunteers on the day of the race, so that was a huge help!
EM: You also used social media a lot to get the word out. Can you explain more of what you did?
JULIA: Social media was the best platform and I knew I had to make a plan. I created my own hashtag #roadtonamibia and was intentional to post something everyday including videos, links to the Immersion page, blogs or photos. I created a plan and pretty much everyday for a month I was posting something new!
EM: Can you explain more of what your social media plan or schedule looked like?
JULIA: Sure! I tried to post something every day of the week, but not be too repetitive. Each Monday, I shared my more formal or produced video to promote the run. On Tuesdays, I posted a link to my personal blog and the registration website. On Wednesdays, I did a personal video that was more casual and allowed me to share my testimony, what this trip means to me, or any progress in my fundraising efforts. People responded very well to these videos and those allowed me to just be real! On Thursdays, I usually reposted something from the EM website or IMMERSION Instagram. On Fridays, I would share a digital copy of my flyer and post a quick reminder about registering for the run.
There were a few times when I took a break from the schedule for the day and posted other relevant updates such as a photo from the printing press shop where the t-shirts were being made. I also posted when the t-shirts arrived or when we bought all the food for the run. I have a marketing background, so I know that branding is also important. I created a "Road to Namibia" logo that I used as my profile picture on social media platforms, so people got more familiar with what I was doing and would see it often.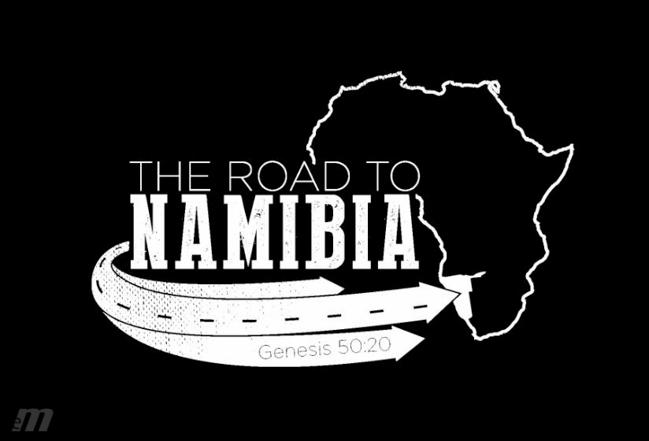 EM: There were several local news stations who featured your story on the evening news, which seems like something most people wouldn't even think about as an option. What advice would you give to other team members who want to reach out to their local news station?
JULIA: I had some personal connections at the news stations because of my job, but a lot of news stations give you the option to get on their website and send a story request. They also put their staff's contact information on the website. My advice would be to email the News Director or Photographer directly once you find their information online. They're always looking for a short 3-minute, positive story about someone from the community! Email both of them at the same time to get the process started. All it takes is to ask! In my email, I just explained more about the trip and why I wanted to get the information out about the run. They were very willing.
EM: How do you get over the awkwardness of asking people for help?
JULIA: If you don't ask, the answer is always going to be "No." I looked at the season or time of year and tried to figure out—what are the demographics of my community and what do people want to do this time of year? If it was summer, I would have done something different. But right now, it's the perfect time of year for running and getting outside. Don't be scared! people are always looking for ways to help. Even if they're not going on the trip with you, they have the opportunity to help you reach your goal. I think people want to be a part of something bigger than themselves and a lot of the people who donated were people I knew personally and asked directly. So, don't be hesitant or act nervous or scared. You have to be confident and then people will truly see your heart behind asking.
EM: How have you seen God show up throughout this process?
JULIA: Oh man, if I could explain all the ways! I definitely struggled with doubts and voiced those things to friends and family. But then, God pulled through for me in the middle of my doubting. Someone must have said a big prayer! I learned that He shows up through people, including every person who ran in the race or donated. One of the most memorable moments was when I visited a lady in the hospital who was the mother of a friend. She didn't have family in town so I visited her several times. During one of the visits, she handed me $30 for my trip right from her hospital bed! It was one of the most memorable donations and so humbling. A similar thing happened with a neighbor after I took her to a doctor's appointment. People gave to me even when they were experiencing struggles of their own.
It's through these people and experiences that I know God is calling me to go. Ephesians 3:20 has become a huge verse for me. He has done so much more than I could have ever asked or imagined!
EM: Any final advice to your teammates or other applications considering IMMERSION?
JULIA: I really feel like there is no dream too big or small for God. You might be considering this and feel like you can never do it. I have a tough past, but that's behind me. Now, I am going on this trip and He is so much bigger than my past or doubts. My advice is to find the biggest dream you can and chase it.
LINKS //
Inspired? Check out the 2016 IMMERSION terms!
Watch: Julia's Event Promo Video