Every Thursday night, our community partners at School for Life in Gary, West Virginia, put on an event through one of their programs called Sunlight Ministries. This event is the work of Miss Marjie, who has dedicated her time to helping the kids of Gary and the surrounding communities not become victims of their circumstances.
To accomplish this, she coordinates different activities that the kids run in order to teach them discipline and entrepreneurial skills, some of which have included an ice cream shop, dance performance, gift shop, nail salon, and t-shirt printing. All of the proceeds from the events go towards purchasing school supplies for the kids. The performance is always a highlight for us as a staff, as we get to see the kids take ownership of something, and well, eat ice cream. This week in particular was extra special for us.
Just as the performance was about to start, a storm came rolling in over the mountains and began pouring rain. We frantically rushed to put away all of the metal folding chairs set up for an outdoor performance, then ran inside the old high school gym, once the home to the Gary Coaldiggers. We came through the double doors to the sound of clapping to the rhythm of "Country Roads" by John Denver, and soon our crowd of eighty was singing along.
After Marjie gave a speech, the kids did a few dance routines and then she surprised us by inviting us onto the dance floor, where the kids swarmed us with hugs and started dancing all around us. Through all the chaos of kids dancing, the tiniest of all of the kids, Joleanne, walked up to me and hugged my leg and smiled before running away to dance somewhere else. Later that night, she found me again near the nail shop and told me she was painting my nails, then grabbed my hand and led me to her station in the salon where she informed me my nails would be rainbow.
Some of the other guys from the mission team were already in there and a team leader offered to pay for all of the men, so soon guys were lining up and getting them painted. Even though it was super goofy and embarrassing, the kids in the nail salon loved it, and it was a cute moment to share with little Joleanne. Not to mention the polish made for a good cover for the roofing tar under my nails. :)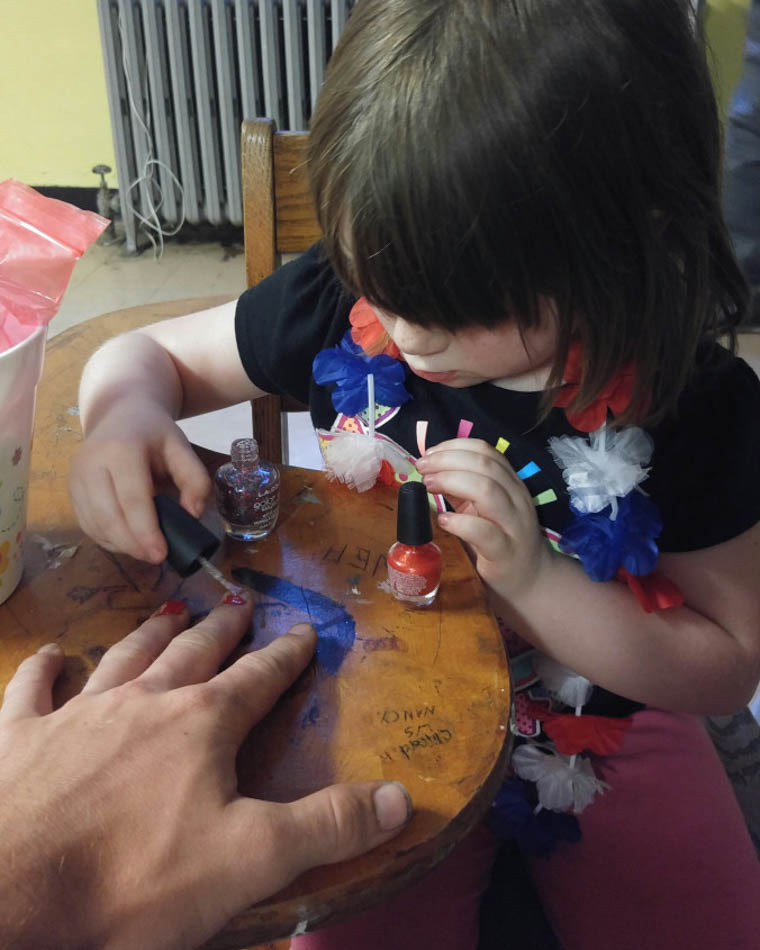 More important than all of the silliness, is what the little ones like Joleanne will learn from nights like this. In an area where most people's income comes through welfare, disability, and worker's compensation, what Miss Marjie is teaching these kids is vital. The first ever food stamp in the United States was given here in McDowell County, and since has become a generational phenomenon, with parents teaching their kids that the goal is welfare. Week after week, Marjie gives a speech and my favorite part of this is when she says, "People always tell these kids that they are poor. If that is all they hear they're going to believe that all they are is poor, and that's all they ever will be. Lift these kids up, show them that work pays off. Keep encouraging these kids, send postcards, let them know they can be anything. Give them something to dream about. They'll grow up, then decide if they want to be poor, but right now, they're kids with a future."
My team in Gary is approaching the halfway point of our summer here, something that is so hard to believe. I am so thankful for all the fun little times like these that I have with teams and the community. So many people have come through here to help, and we can start seeing the fruits of our labor. Now, any direction we turn from the School for Life, we can see a home where a mission trip team has worked. The community has taken notice of the work that all have done here, and it is so exciting to meet people who have heard about the things we have done here, inspiring more change to happen. I cannot wait to see how God will use us for the remainder of the summer. Check out some of the stuff volunteers have been a part of this summer – from Kids Club to home work projects!