by Mary Bodkin, EM Summer Staff in Cuba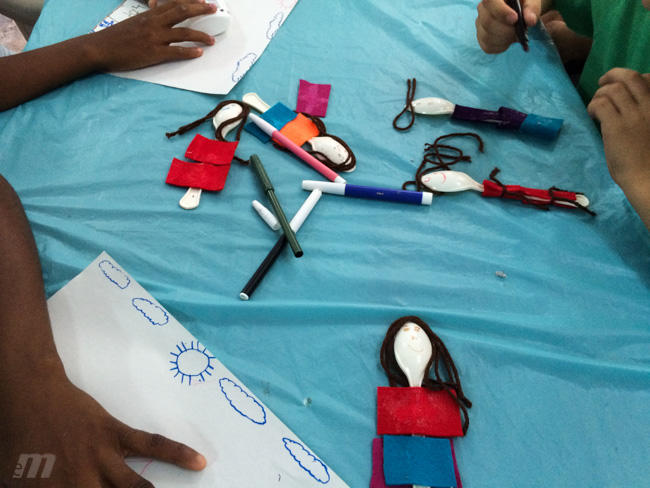 Some of the EM mission trip teams in Cuba this summer have had the opportunity to participate in the Disabled Children's Ministry here in our community. This group consists of children and adults that have various disabilities and their mothers or grandmothers that care for them. The group meets once a week in the morning. The kids have a class where they hear Bible stories, sing songs, and do crafts and other activities. The mothers get together and share struggles and success stories, do a book study, and pray for each other. The ministry started about 15 years ago with 4 families. Now the group serves 39 kids and their caretakers!
I have been deeply moved by my experiences working with this ministry. Children with disabilities are rejected by many here in Cuba. Sometimes fathers will abandon the mother and child because he is embarrassed. Sometimes the mother and father will leave the child with a grandmother. Many of these children suffer years of rejection. But this group of amazing women are standing up against cultural norms. They have taken on the amazingly difficult task of taking care of their high needs children, many of them without help from anyone.
I had the privilege of sitting in on the mothers' group meeting. They shared struggles, updates, good news, bad news, and discussed the book they are studying. Some shared with me their stories, and one woman shared about how she found the Lord through this amazing group of women. I felt honored to be in the presence of all these warrior women! To close their meeting they asked me to pray for them. I was thinking to myself, "what could I possibly pray for this phenomenal group of women?" As I held back my tears I fumbled through a prayer in Spanish. I felt like these women deserved a much better prayer, but I know God is faithful and always understands our thoughts and prayers even when we can't put them into words.
One of the team members from Louisiana inspired me. He was an older gentleman nicknamed Cotton, an amazing man with a heart of gold! He came into the class, greeted one of the kids, and sat down next to him. This boy is 18 years old and can't really communicate in any way. As I glanced back over to them, this boy was just laying in Cotton's lap. I smiled towards them, and went to help translate the craft activity. After we finished the craft, I looked over and the boy was still just laying in Cotton's lap. The boy clung to him, and I could just feel the love and care. "Blue roses, I like to call them," Cotton told me, "These type of children are God's blue roses."

LEARN MORE | Bring your Mission Trip team to Cuba!