We had a wonderful mission trip team up from New Jersey to end off the summer. We had a big field trip to the beach on Wednesday to end Super Summer.
We piled kids and leaders into vans and convoyed it to Fort Popham. An hour later, we found ourselves in the middle of the old fort, seemingly built just for us with lots of places to run around, and only one gate to get out, so no sneaking away could happen. The sun was out, and the temperature was just right. We ate our brown bag lunches, talked about Jesus, had a big scavenger hunt, and played field games for the morning. We were getting hot and tired by the time we made our way over to the beach.
The cold water didn't stop the kids from barreling into it, and us leaders followed quickly. Screams and laughter filled the hot afternoon air as we splashed around and built sand castles. The kids didn't want to get out of the water when we called them up to the vans. They reluctantly crawled back in, and we headed home covered in salt and sand and smiles.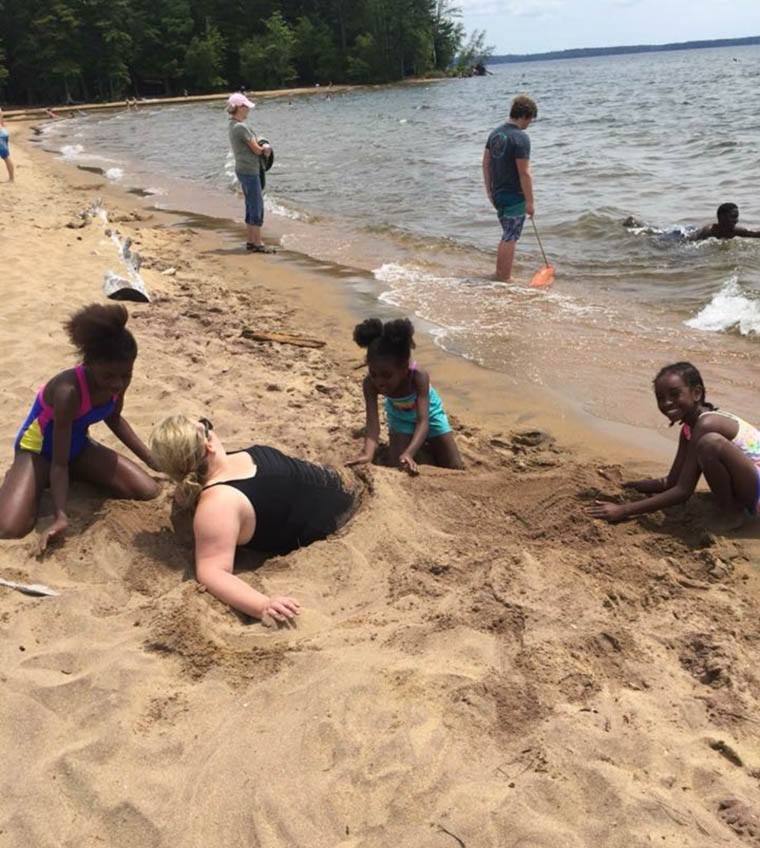 Honestly, it was one of the most exhausting days of super summer. I was sweaty, my hair was sticking up with salt, and I just wanted a bed. But I will also tell you this; it was the most fun day of super summer (and we have a lot of fun days). It was a hard day, we had to be on our A-game, we couldn't let any children drown. And our kids had such a fun time playing, getting a chance to play somewhere new, being near the ocean (and splashing me).
We could have chosen to stay at the Root Cellar that day and the kids would still have fun. It sure would have been less work. But we've seen over and over at the Root Cellar this summer, it's not about choosing the easiest or most convenient path. It's about loving our neighbors with ALL that we have. That usually means going out of our way to do something for others. We don't have to, but it's what Jesus would do, so I guess we kind of do then.
He didn't ask us to be comfortable. He didn't ask us to love if we had the time. He didn't even ask us to love only after we had a full nights sleep. No. Jesus commanded us to love. Period. A pastor friend reminded us of this, this summer; "Love isn't a feeling, love is a verb."